LongArm Techniques
Want more than just a taste? This class teaches all the longarm techniques, without spending a lot of time on machine-specific issues. It's great for people who own a different LongArm or MidArm machine. Upon completion of this course, you will be competent to quilt tops with the LongArm using a full range of quilting styles and techniques.
LongArm Techniques
Trains the student in a broad range of techniques and styles of LongArm Quilting. At the completion of training, the student, on passing a final exam, is qualified to use the Moon Star Studio longarm on their own, without supervision, at a reduced leasing rate.
Topics to be Covered
Orient on Machine

Quilt Rollers
Table
Sewing Head
Sewing Area

Bobbin Race
Stitch Length Regulator
Controls
Indicator Lights

Accessories

Bobbin Winder
Thread Spindles
Thread Lubricator
Rulers
Hartley Fence

Machine Management

Power Up
Threading
Bobbin Threading
Controls
Stitch Length Regulation
Loading

Check Quilt Top
Prep Quilt Top
Check Quilt Back
Sew on Leaders
Load

Quilting

Common Topics

Locking Thread Ends
Monitoring Thread Tension
Common Problems
Correcting Errors

Freehand Quilting

Doodling a Quilt
Sources for Patterns
Developing "Styles"

Channel Lock Quilting

Grid Quilting
Basting for Hand Quilting

Pantograph Quilting or All-over Quilting

Learning a Pattern
Aligning Pantograph Rows
Sources for Patterns
Designing Your Own

Using Rulers

Expansion Plate
Sources for Rulers

Stitch-in-the-Ditch

Using Rulers to Stabilize Lines
Using Channel Lock to Stabilize Lines
Stitching on the Low Side

Pattern Quilting

Marking Patterns
Paper Patterns
Using Rulers to Stabilize Lines
Sources for Patterns
Designing Quilt Patterns

Unloading/Finishing

Unload/unzip
Remove Leaders
Trim Loose Threads


Recommended Resources

©Moon Star Studio, 2004-5
What's Included?
This complete course takes you from knowing nothing about running a longarm quilting machine to mastery of a variety of quilting techniques. Included in the course is:
10 individual 4-hour lessons, mostly spent hands-on with Moon Star Studio's APQS Millenium LongArm.

While some of the training is done on muslin, students also work with practice quilts, or can elect to complete several of their own quilts during the course of the training.

Study Notes identifying the topics to be covered in each lesson.

Access to Moon Star Studio's quilting library, including books, videos, patterns, etc.

Customization of the training to focus on areas of special interest to you. For example, if you favor pattern quilting over pantograph work, more emphasis will be placed there.

Training should be scheduled on a regular basis, e.g., every Thursday evening. Training can proceed faster if desired by scheduling more than one session per week.
What's It Cost?
The complete course costs $799.
A $99 deposit plus $200 for the first two lessons is due at commitment, with an additional $100 due at each of the third thru seventh lessons.
Add the Kitchen Sink kit for $195.
Kit includes:
1 set Pocket Freehand Guides
1 copy Freehand Feathers
2 sets Zippered Leaders
2 additional 4-hour sessions with the longarm.
Required Books:
Trillium House's Pocket Guides to Freehanding: $49.95
Recommended Book & Supplies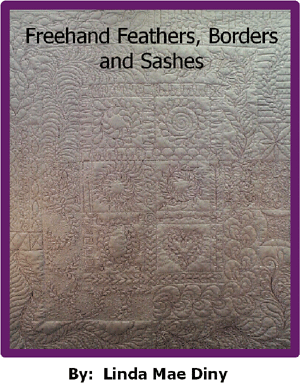 Linda Mae Diny's Freehand Feathers: $34.95
Zippered Leaders (if you plan to lease, you will want 2 sets): $24.95 /ea